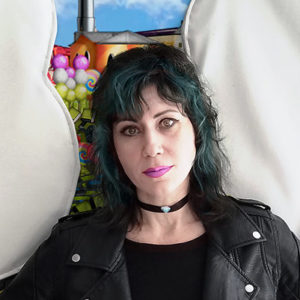 Carla Gannis
Artist and Faculty/Assistant Chair, Dept of Digital Arts, Pratt Institute
Carla Gannis is an interdisciplinary artist based in Brooklyn, New York. She produces virtual and physical works that are darkly comical in their contemplation of human, earthly and cosmological conditions. Fascinated by digital semiotics and the lineage of hybrid identity, Gannis takes a horror vacui approach to her artistic practice, culling inspiration from networked communication, art and literary history, emerging technologies and speculative fiction.
Gannis's work has appeared in exhibitions, screenings and internet projects across the globe. Recent projects include "Portraits in Landscape," Midnight Moment, Times Square Arts, NY and "Sunrise/Sunset," Whitney Museum of American Art, Artport.  A regular lecturer on art, innovation and society, in March 2019 Gannis was a speaker at the SXSW Interactive Festival on the panel "Human Presence and Humor Make Us Better Storytellers."Publications who have featured Gannis's work include The Creators Project, Wired, FastCo, Hyperallergic, The Wall Street Journal, The New York Times, El PaÍs and The LA Times, among others. In 2015 her speculative fiction was included in DEVOURING THE GREEN:: fear of a human planet: a cyborg / eco poetry anthology, published by Jaded Ibis Press.
Gannis received an MFA in painting from Boston University in the twentieth century. In the twenty-first century she is faculty and assistant chair of the Department of Digital Arts at Pratt Institute.