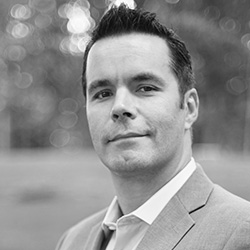 John Misak
Assistant Professor at NYIT
John Misak joined NYIT in January of 2003 as a lecturer in the English department. He has since taught several courses and has worked as a tutor in the writing center for 12 years.
Misak brings his experience working as a journalist in the video game industry to his classroom through the use and discussion of technology. His courses focus on modern writing tools, like smartphones and tablets, as well as discussing how these technologies touch our lives. His research focuses on this and the use of video games as literature. He also writes mystery novels and teaches a detective fiction class where he shows students, firsthand, how such novels are researched and written.
He earned his bachelor of English at Hofstra University, his M.A. in creative writing at Queens College, and his doctorate at St. John's University.
Recent Projects/Presentations
"Not Just Words, Words, Words: Using AR to Illustrate the Context Behind the Text of Hamlet." Pacific Ancient and Modern Language Association 115th Annual Conference, Bellingham, Washington, November 2018.
"Out of (Shakespeare's) Mind and into the Classroom: Our Augmented Reality App for Teaching Hamlet." Society for Literature, Science, and the Arts 2018 Conference, Toronto, Canada, November 2018.
"Using Virtual Reality to Illustrate Sense of Place in the Composition Classroom." Pacific Ancient and Modern Language Association 114th Annual Conference, Honolulu, HI, November 2017.
"Kombat and Story: How Fighting Games Encourage Players to Imagine and Investigate Narrative." 2017 National Council of Teachers of English Convention, St. Louis, MO, November 2017.
"Fighting Games and the Imagination and the Investigation of Narrative in the College Classroom." Page 23 Denver Comic-Con Special Session, July 2017.
"Using a Smartphone as Narrator and Writing Tool: A Workshop for Community College Creative Writing Students." Creative Writing Symposium, Suffolk County Community College, April 2016.
"Lies, Lies, Everywhere: Using Hamlet and Long Day's Journey Into Night to Illustrate Deception and Perception in the Media for Community College Composition Students." Transitions and Transactions III: Literature and Journalism Pedagogies in Community Colleges Conference, Borough of Manhattan Community College, April 2016.
"Using Mobile Devices in the Writing Classroom." Florida State University Writing Conference, January 2016.
"Video Games as Narrative Literature." PAMLA Conference, November 2015.
Publications
"A (Virtual) Bridge Not Too Far: Teaching Narrative Sense of Place with Virtual Reality." Computers and Composition, September 2018.
"How Fighting Games Help Enable Student/Players to Imagine and Investigate Narrative." The Quint 9.4 September 2017: 65-88.
"Incorporating Youtube in the English Classroom" Chronicle Vitae, April 2016.
"Why I Started, then Stopped Again, Grading First Drafts in Composition." Chronicle Vitae, March, 2015.
"The Tragedy of the Train Wrecks: Connecting Tragic Catharsis Between Eugene O'Neill and Reality Television for Composition Students." Laconics, The Eugene O'Neill Newsletter, February, 2015.
"Is That Video Game Programming You?" Across Cultures: A Reader for Writers, Longman, 2009.
Courses I Teach/Have Taught at NYIT
FCWR 101—Writing 1
FCWR 151—Writing 2
ICLT 319—Detective Fiction
FCSP 105—Speech Communication
WRIT 100—Basic Writing
WRIT 304—Technical Writing