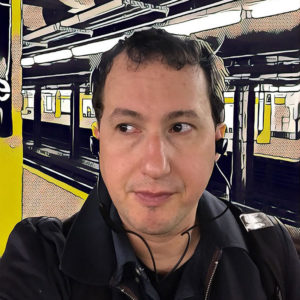 Jonah Brucker-Cohen, Ph.D
Assistant Professor in the Department of Journalism and Media Studies at Lehman College / CUNY in the Bronx
New York, NY
Jonah Brucker-Cohen, Ph.D., is an award winning researcher, artist, and writer.
He is an Assistant Professor in the Department of Journalism and Media Studies at Lehman College / CUNY in the Bronx. He received his Ph.D. in the Disruptive Design Team of the Electronic and Electrical Engineering Department of Trinity College Dublin.
His work focuses on the theme of "Deconstructing Networks" and includes over 100 creative projects that critically challenge and subvert accepted perceptions of network interaction and experience. His artwork has been exhibited and showcased at venues such as SFMOMA, Canadian Museum of Contemporary Art, MOMA, ICA London, Whitney Museum of American Art, Palais du Tokyo, Tate Modern, Ars Electronica, Transmediale, and more.
His project, "Bumplist", is included in the permanent collection of the Whitney Museum of American Art. His writing has appeared in publications such as WIRED, Make, Gizmodo, Neural and more. His hardware hacking Scrapyard Challenge workshops have been held in over 15 countries in Europe, South America, North America, Asia, and Australia since 2003.