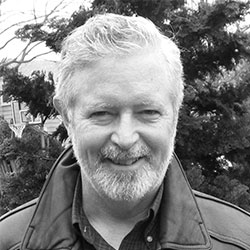 Kevin LaGrandeur
Professor at NYIT
The scholarly work of Kevin LaGrandeur proves that the humanities and sciences have more in common than meets the eye.
LaGrandeur has written many articles and conference presentations on digital culture; on Artificial Intelligence and ethics; and on literature and science. His publications have appeared in journals such as Computers & Texts; Computers and the Humanities; and Science Fiction Studies. He has also published chapters in books such as Eloquent Images: Word and Image in the Age of New Media and Beyond Artificial Intelligence: The Disappearing Human-Machine Divide. He has also published in popular publications such as USA Today and United Press International (UPI).
LaGrandeur has been appointed Fellow of the Institute for Ethics and Emerging Technologies, an international technology think tank. He is also a member of The Modern Language Association, and the Society for Literature, Science, and the Arts. He served on the executive board of the last organization for two years.
LaGrandeur's book, Androids and Intelligent Networks in Early Modern Literature and Culture: Artificial Slaves (2013), is part of the series Routledge Studies in Renaissance Literature and Culture. In 2017, he published Surviving the Machine Age: Intelligent Technology and the Transformation of Human Work, co-edited with James J. Hughes.
An avid outdoorsman, LaGrandeur enjoys skiing, cycling, hiking, camping, fishing, and birdwatching with his wife. He's a stalwart football and soccer fan who has season tickets for the Green Bay (Wisc.) Packers (though he lives in New York), and he traveled to Germany in 2006 to watch the World Cup soccer tournament.
LaGrandeur says, "The best part of my job is engaging with people and ideas from various disciplines at an intimate, forward-thinking institution."
Recent Research
Researching the philosophical and social dimensions of current efforts to develop an artificial conscience for robots (in connection with a European Union EACEA Grant)
Publications
"Frankenstein, Young and Old: An Interview with Mel Brooks." Frankenstein: How a Monster Became an Icon: The Science and Enduring Allure of Mary Shelley's Creation. Eds. Sidney Perkowitz and Eddy Von Mueller (Pegasus Books, 2018).
"Art and the Posthuman." Posthumanism: The Future of Homo Sapiens. Eds. Michael Bess and Diana Walsh Pasulka (Macmillan Reference USA, 2018).
Surviving the Machine Age: Intelligent Technology and the Transformation of Human Work. Edited with James J. Hughes (Palgrave Macmillan 2017)
"Early Modern Literature."The Cambridge Companion to Literature and the Posthuman. (Cambridge, 2016)
"Posthumanism and Contemporary Art." (Cleveland Museum of Contemporary Art [MOCA], 24 March 2016).
"Androids and the Posthuman in Television and Film." The Palgrave Handbook of Posthumanism in Film and Television. Eds. Michael Hauskeller, Thomas D. Philbeck, and Curtis Carbonell (Palgrave Macmillan, 2015): 111-119.
"Emotion, Artificial Intelligence, and Ethics." Beyond Artificial Intelligence: The Disappearing Human-Machine Divide. Eds. Jan Romportl, Eva Zackova, and Jozef Kelemen. Book Series: Topics in Intelligent Engineering and Informatics, Volume 9 (Berlin: Springer Press, 2014): 97-109.
Androids and Intelligent Networks in Early Modern Literature and Culture: Artificial Slaves (Routledge, 2013).
"Digital Images and Classical Persuasion." The Routledge Reader on Writing Centers and New Media. Eds. Sohui Lee and Russell G. Carpenter (Routledge, 2013).
Honors & Awards
Honorable Mention, 2014 Science Fiction and Technoculture Studies Prize
Fellow, Institute for Ethics and Emerging Technology
Courses I Teach/Have Taught at NYIT
Strange Creations: Intelligent Technology, Ethics, and Literature
Writing for the Web: Web Design