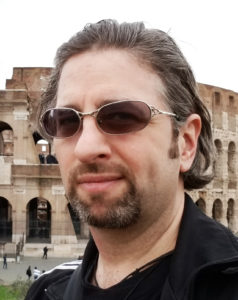 Jim Glaser is the Founder and Creative Director of the
Kostume Kult Arts Collective
.  They have produced multiple annual events including NYC Halloween Parade Floats (since 2000), Burning Man festival theme camps (since 2001), group participation in numerous parade and public events and dozens of large art themed galas including the upcoming 
Kryptopia
 (Creative Tech Week's Closing Party, May 12, 2018) Horned Ball, Black & Light Ball, Alt.Oscars, FreaKKshow and many others.  By day, Jim is a retained Executive Recruiting and HR Leadership executive, recruiting in the Media & Entertainment, Tech, Consumer Products, Private Equity and Strategy Consulting industries.
IWD: What gave you the idea to start Kostume Kult?
JG: The initial spark for Kostume Kult was because I always loved the creativity of Halloween and wanted there to be more costume parties year-around. The inspiration came from my love for the New York Halloween Parade, where I participated in costume while photographing others.  I knew there was a trend developing that I wanted to be more involved with. As a project for a costume photo website I had launched, in 2001 I made my first solo trip to Burning Man, and in 2002 I collaborated with some friends from a Colorado-based costume company where we gave out hats and sunglasses.  Soon after we became a big camp which has endured and thrived every year since.  Starting in 2005, we started to produce annual events in NYC including both fundraising galas and group participations in parades and other public events. Through the years so much has happened, and, believe me, there is a LOT more to tell about the motivations and community organizing strategies behind Kostume Kult and the larger creative culture that grew up around us.
IWD: I'm looking forward to hearing more about that.  Were you one of the people who brought costumes to Burning Man in the first place? Or has Burning Man always had costumes?
JG: When I first came to Burning Man in 2001, it was a lot smaller, but there were always a few whimsical people in costume. Since then it has exploded with more types of costumery but also a Burning Man look – more of a costumey fashion trend also happening.  Kostume Kult was one of the first costume gifting camps and is definitely the largest, with us giving away over a ton of costumes — 2000+ pounds — every year from a big costume shop/ tent on Burning Man's main drag – the Esplanade.  This too is a long story where I networked into the Halloween industry and cultivated numerous donors from costume and theatrical companies with dead, underselling or damaged stock to share.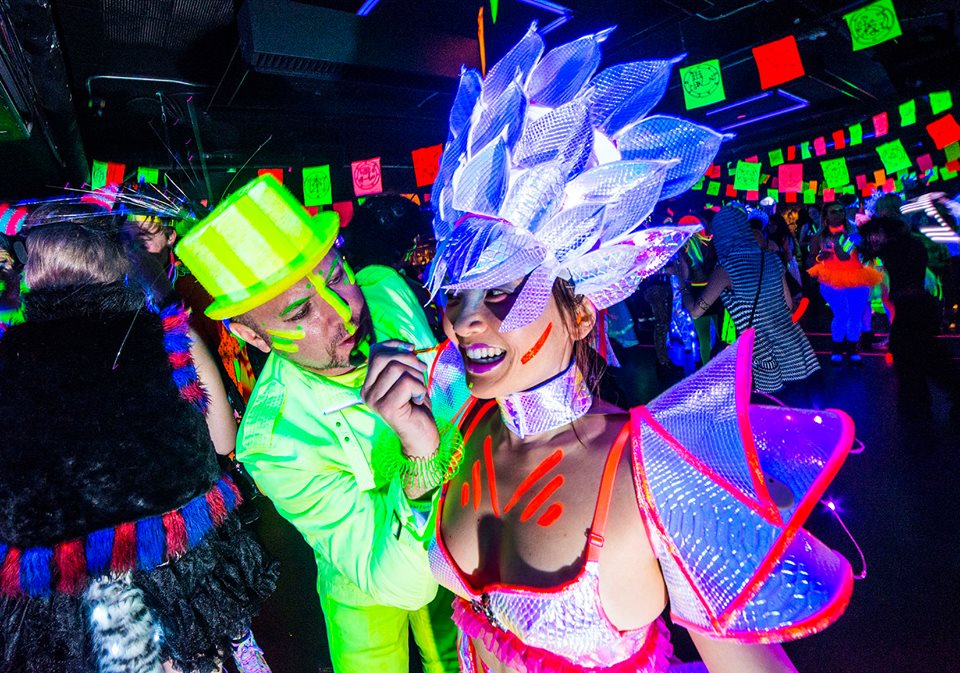 IWD: Would you call Kostume Kult hedonist, and if so, what is the right way to incorporate hedonism into a balanced lifestyle?
JG: While we like to have crazy fun, and really do produce some of the most entertaining parties I have ever experienced, I wouldn't say Kostume Kult is overtly hedonistic.  We work too hard at what is essentially an ongoing, complicated multi-medium art and community project but where the fun is the glue that does keep many of the old timers around while attracting new people every year.
IWD: How do you know when to drop your costumed persona, or know when it's time to get dressed up again?
JG: 
In Kostume Kult it's more about "costuming" than "wearing a costume" or adopting any singular costumed persona.  With the "ING" at the end, it is a subtle but important distinction as, for many of us, it is now about living a creative lifestyle year-around which allows us to be our true selves more often then when we have to adopt a "default world persona" to conform to a business function or a family gathering. And some people in Kostume Kult hardly wear costumes. We have many different types of makers, doers, sculptors, painters, DJs, electronic artists and others who participate by running things or playing a logistical role.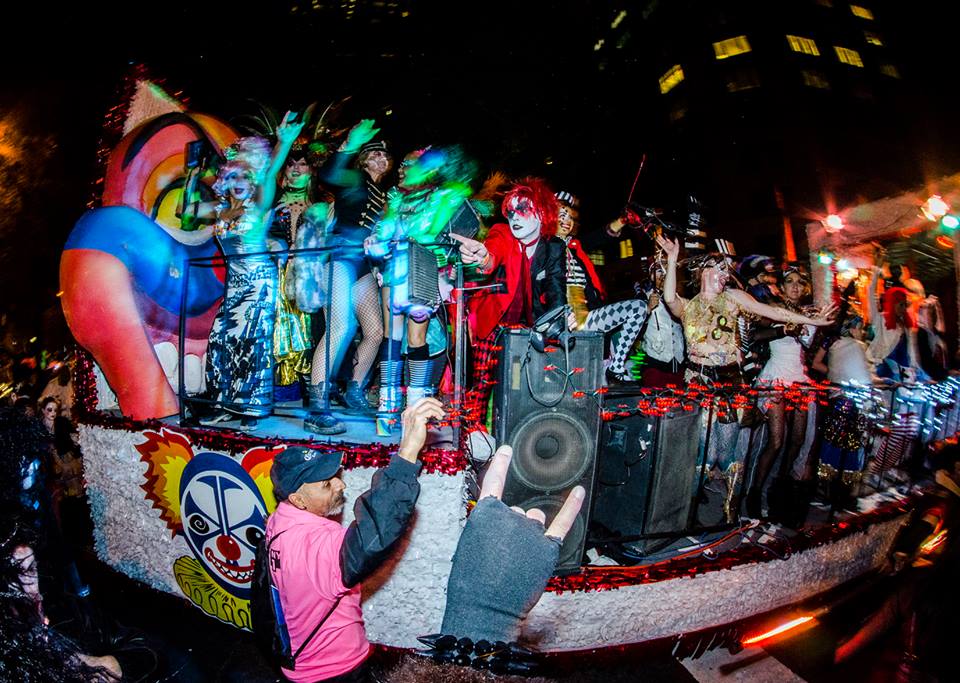 IWD:  How long have you been running the Kostume Kult now, and how do you get the energy to keep it going year after year? I imagine it's not your only source of revenues?
JG: 
I have been more "wrangling" than "running" Kostume Kult since the beginning.
It is not really a top-down organization, but a collective, where I have continually worked with others to recruit and empower many types of people to step up and produce events and art projects — as well as finding people who could take on bigger and bigger portions of organization leadership. Thankfully, I have not been involved in running the camp for the last few years and I'm now doing my best to get out of the way of the year-around activities as I move onto other entrepreneurial ventures. Kostume Kult, aka "Costume Cultural Society", is structured as a non-profit organization currently operating under a fiscal sponsorship with a 501c3 pending, with a 10 person core leadership committee and a large orbit of regular collaborators…  The awesomeness of what we do, and the amazing people we come in contact with keep me going, but note: I make absolutely no money from any of this.  This is an all-volunteer collective which would not be so sweet, and culturally interesting, if this were a business venture.
IWD: Sounds like your organizational structure is a bit like the decentralized philosophy of the blockchain. I want to come back to this.  I'm also intrigued by the concept that there are all kinds of passion projects in this world that thrive on giving and an all-volunteer work force. You and I have this in common.  Does Kostume Kult have any connection with technology, and if so how would you describe that relationship?
JG: I believe "participatory culture", one of the names this movement is called, has a number of cultural attributes shared by internet culture and the open source movement. I have another project, "Open Kulture", where I have explored the cross-overs between these different cultural movements
and a new type of creative social activism.  While it is not a direct line from A to B (Kostume Kult and tech) these cultural similarities are a big part of why I am attracted to the disruptive and creative potential of blockchain. KK has a number of technologists within it,including our most recent camp leader, Isabeau Vidal, who was an early Bitcoin miner — along with many art projects which are technical in nature.  We are always on the lookout for more technologists for so many things – our website, many graphical design projects and any number of electric/light art and wearable tech innovations.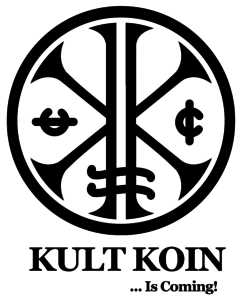 IWD:  Tell me about this Kryptopia idea. Have you looked into cryptocurrencies much, and how would you incorporate this into what you do with the Kostume Kult?
JG: Yes, I have looked into cryptocurrencies and the potential of this sector — as a both a recruiter but also a longtime activist who is very excited by the disruptive potential of blockchain tech.  For the Kryptopia theme, note that Kostume Kult has several annual events that have been ongoing for over a decade including the Horned Ball, FreaKKshow and the black-light intensive Black & Light Ball where we always add on  sub-themes that are inspired by the current cultural zeitgeist and other things like the upcoming Burning Man theme.  On May 12th will be our 13th annual Black & Light Ball which is our most tech/art oriented event where the "Kryptopia" theme was inspired by a merging of todays crypto craze and the upcoming "I.Robot" theme of Burning Man 2018.  In particular, when I read an article about "Puertopia", I envisioned a future time when blockchain and other techs have fully disrupted society bringing on the long awaited "Golden Age of Mankind" which is essentially what this art theme is about… And within this theme, we also thought it would be funny to have a farcical tokken launch aand, working with another Kostume Kult creative director, Michelle Staton, we baked in a party-gaming oriented "IKO" of "KultKoin" which we recognize could very well begin as a lark and grow into a real cryptocurrency…. Another reason we are very interested to recruit some new technologists into the community!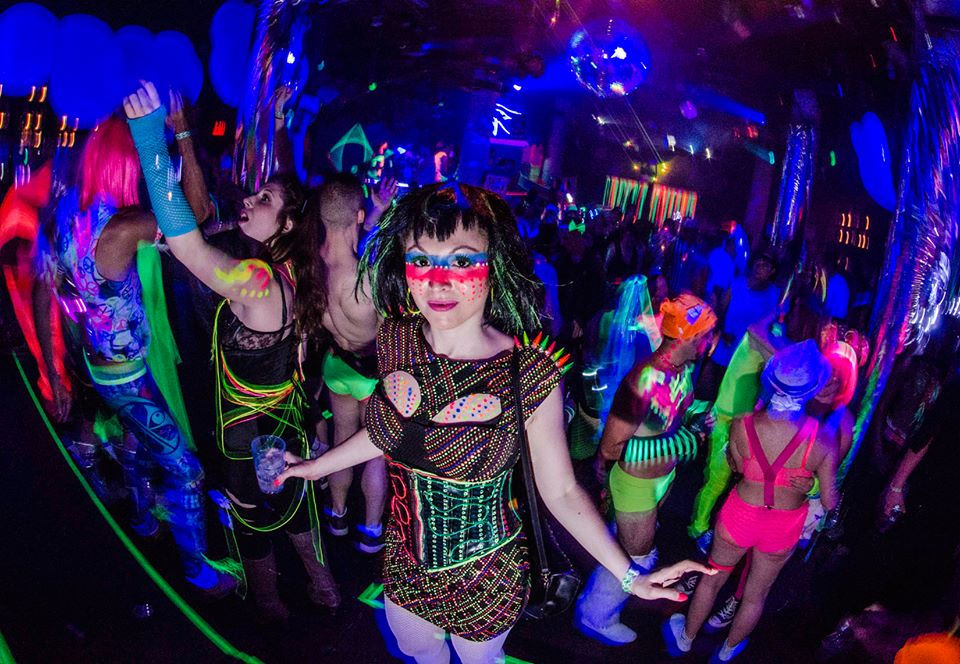 IWD: What can we expect at the Black and Light Ball on Saturday night?
JG: Our parties bring together a lovely, super-fun crowd that always welcomes new people willing to make an effort.  The venue has two floors where one floor will be black light intensive and the other floor will be more video oriented with DJs spinning and a number of interactive activities going on.  You can drink, dance and mine yourself some KultKoin by taking on challenges that pay homage to the Ten Principles of Burning Man… My guess is there will be 500-600 guests where about 75% will be Burning Man community members.
IWD: Are costumes required?
JG: The short answer is no but we always encourage folks to make an effort as they will have more fun if they do. Also, Black & Light Ball has always been more of a "fashion" (vs. a "costume" event) where any form of true-white or neon shirt, hat or outfit makes a big difference, where we will have a number of body painters there to help you.   Some people wear very little but the paint at BLB!
Kryptopia is Saturday Night, May 12th in West Midtown from 9pm to 5am
Full info & tickets:
http://www.kostumekult.com/events/blb18/
Facebook Event Page
https://www.facebook.com/events/210527089714979/