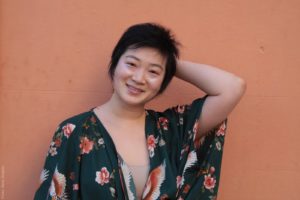 By Berta Delgado Fernández
Berta Delgado Fernández: How do dance and psychotherapy influence your life and work?
Sonia Li: Life is funny and pushed me in certain directions, with a series of coincidences that lead me to dance. Two years ago, I distinctly remember in one of my first classes, I felt a strong spirituality that came from meeting my true self for the first time. I've never felt such certainty and clarity in my life. Being in touch with my true identity leads to immense changes in my belief system – to let go of things that no longer serve me, to think less and do more. Because of this process, I'm able to cultivate inner strength through actions of creating my own realities. More and more, I find that I rely on my intuition and practical judgment.
My work is an extension of myself, and metaphorically reflect the different stages of my personal transformation. Dance is a language which encourages the brain to spark new cells, interconnecting to form new neuro pathways. The plasticity of the brain constantly adapts to the physical changes in the body, impacting perception, comprehension and memory. I see my work as visual evidence of my internal changes. In the video art I make after I dance, it is clear that my brain forms new neuro pathways depending on the physical activities I do. (fig. 1 and 2) I'm interested in the power of art to heal and transform. I researched multi-sensory environments (MSE), specialized therapeutic spaces for people with cognitive disabilities to empower them with emotional and physical interactions. The artistic experiences I design weave together MSE research in sensory therapy, neurology and psychology.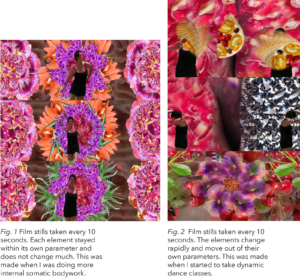 BDF: At the moment of creating, how is your relationship with technology?
SL: Technology is such a malleable tool. It activates artistic concepts that traditional fine arts medium can only metaphorically accomplish. Although the concepts of my work are very much rooted in fine arts expression, technology makes the experience of my work alive so that visitors can experience and engage at an intuitive level.
BDF: What artists are a reference for you?
SL: I was trained in the fine arts. I look to Louise Bourgeois, who infused her feminine and surreal works with metaphors of sexuality, body, death and the subconscious. I love the raw energy in El Greco paintings. I've always enjoyed German Expressionism, gothic architecture and art.
BDF: In several pieces like in the Whale installation you look for audience participation; how do you integrate their participation in the work?
SL: Art is created to reflect back to the viewer. I create interactive experiences with technology. In that sense, the experiences of the visitors are what make the work. I think of these installations as vessels for each individual to get in touch with their internal selves. The visitors connect to these experiences on their own terms and create personal emotional connections. Whale is an interactive multichannel sound installation. It is inspired by the positive work I was doing in psychotherapy, and I wanted to make an experience that would empower each individual. The visitor lays on a subsonic vibrating bed (fig. 3), experiencing waves of vibration through the body. When speaking into the microphone, the user's voice triggers whale sounds. Sound is a material in the context of sculpture. In using techniques to sculpt and spatialize sound, it creates an expansive sound field, in which the visitor feels 'enveloped' and 'immersed'. When I interviewed the visitors, everyone had a very different experience, ranging from meditative, happy, peaceful to powerful, intimidating and otherworldly. Each of these description is highly personal, and reflect much on each visitor and their own psyche.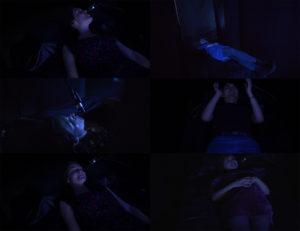 fig. 3 Whale users
BDF: Although you are living into an urban environment your work contains many elements of nature such as rain, flowers, animals or bird sounds. What does nature mean to you?
SL: Nature is soothing for me and I naturally gravitate towards it. I like the universality of nature and how everyone can related to it in their own ways. In Drawing Rain (fig. 4), an immersive performance installation, I put together an ambience with the act of drawing and rain sounds as a metaphor to my inner emotional space. The digital live drawing generates the organic rain visuals and spatialized rain sounds. In Orchid Rorschach (fig. 5), I made optical illusions for dementia elderly and showed them at the Lenox Hill Neighborhood House's Dementia Arts & Wellness Program.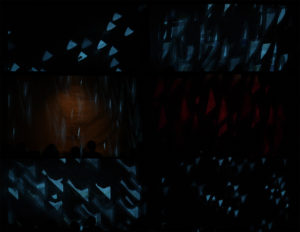 Fig. 4 Drawing Rain Performance Installation film still, depicting the wall of organic moving rain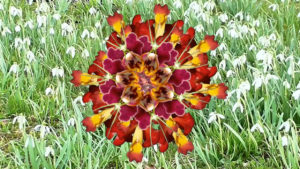 Fig. 5 Orchid Rorschach film still
BDF: From your thirteen years´ experience living in New York, how is the contemporary art environment in the city? Has it been determinant for you to develop your work?
SL: New york has a thriving scene in every category of art form. I'm fortunate to have seen many exhibitions and important works come through the city. Seeing many different kinds of works allowed me to cultivate an innate understanding of artistic expression that felt genuine to my own voice.
BDF: What projects would you like to realize and where would you like to see your work in the future?
SL: I'm currently researching artificial intelligence and working on Movement, an interactive installation where dancers generate the experience, incorporating immersive video, sound and bodily senses. It borrows from my previous installation, Whale, using a similar setting and technique to mold and spatialize sound to generate visceral sensations. I regularly make video art after I dance to retain the optimal energy of the mind-body connection, and these visuals are used as a part of Movement. My work is large scale and I see it in venues like museums, festivals and places where people come together to share experiences. I'm always interested in hearing from different kinds of people for collaboration ideas.
BDF: How is your free time?
SL: I like going to museums and galleries, taking walks in the park, playing with dogs, making video and sound recordings. In the summer I love going to the beach!
BDF: A dream you would like to come true?
SL: World peace.
About Berta Delgado Fernández:
Berta works in diverse fields such as visual arts, performing arts, stage design, freelance photograpy, illustration, edition and web design. In 2015 created her own editorial project YanMag, a magazine on professional careers with a special focus on cultural matters. In 2003, she founded the Interdisciplinary ensemble LRM Performance alongside composer David Aladro-Vico.
Contact@LRM-info.com