By Eli Mitchell-Larson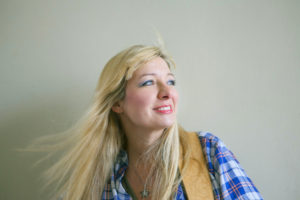 Tatiana Moroz is a soulful, outspoken singer-songwriter, and one of the premier artists in the blockchain and liberty activist communities. Following the release of several independently produced LPs, EPs and singles, Tatiana's latest album "Keep The Faith" was funded solely by cryptocurrency. Her music is a fresh take on the folk style of the revolutionary 60's and 70's, an original blend of pop, alternative country, rock, and blues.
Eli Mitchell-Larson: Your voice and music evoke a certain earnest, pristine folk that harkens back to the folk greats of the 60s and 70s. How did you cultivate that sound and tone, and what influences do you identify with?
Tatiana Moroz: For as long as I can remember, I wanted to do music. As a child my Mom would drive around with me in the Catskills and play music from singer-songwriters from the 60s & 70s. Hearing Peace Train for the first time showed me that you could use a song to convey a political idea or emotion and have a big impact on society. That influenced me throughout my life and accounts for the eclectic mix of things I'm involved with now.
I grew up listening to those folk singer songwriters, but also Guns 'N Roses, Prince, and the Indigo Girls. I performed in a lot of musicals and choirs growing up, and ultimately gravitated toward jazz at Berklee College of Music in Boston where I studied jazz vocal performance and music business. I was turned off by the evolution of pop music toward oversinging and millions of riffs – I have a respect for the classics that I think is reflected in my style. Traditional songwriting appeals to me the most. For me there has to be a purity when you're on stage. I'd like to be a role model for younger folks and produce something more wholesome than what you hear on the radio.
EML: Tell us about the roots of your activism and how they've interwoven with your music journey.
TM: As a teenager in New Jersey I was reading a lot of dystopian novels like 1984 and Brave New World and I felt there was something wrong with the society I was living in, so I began thinking about how it could be better organized. When I was 6 or 7 I asked my Mom what would happen if everyone pooled their money and we could just take out what we need. She told me that was Communism and wouldn't work, which she felt strongly about having come from Poland.
When I returned to New York after studying voice, I started worked at a series of recording studios like Avatar Records and Quad. I was pursuing my own music on the side, which was the most important to me but of course also the hardest way to make a living. At those studios I saw unused rooms and equipment going to waste, knowing full well how many musicians would love to take advantage of these resources and work on their art. I was frustrated with the music business, and people telling me to "find my niche". What do you mean find my niche, I'm a chick with a guitar! I knew I had to find a way to be totally independent, which was in keeping with my political philosophy.
EML: How did this frustration with the traditional music business lead you to bitcoin?
TM: In 2012, I met the founders of BitPay, now among the largest bitcoin payment services, who told me about bitcoin.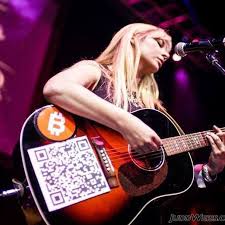 It was during this initial conversation that they convinced me to buy some of the cryptocurrency, and that's what set me on this path. My friend Jeffrey Tucker, a libertarian economist and speaker, presented a clearer vision for me of the potential impact bitcoin could have on the world. As much as possible, I've been living off bitcoin since 2012; it's money to me.
I decided to write a catchy song, "The Bitcoin Jingle", as an anthem for the bitcoin community. It sounds like a silly little song at first but it's actually quite subversive, beginning with the line "I didn't want to give any of my money to a nation built on war". I go on to advocate for how people can protect themselves by changing from fiat to cryptocurrency.
EML: You're known for being the first artist to launch your own cryptocurrency, the TATIANACOIN. How did this come about?
TM: In 2013 I befriended Andreas Antonopoulos, a well-known bitcoin thought leader. I've since opened for Andreas's big theater talks in Chicago where we aim to get all the new people in the space up to speed with the history of the community. In talks with Andreas and other members of the bitcoin community, I decided to launch my own cryptocurrency. Donors could contribute bitcoin and receive TATIANACOIN in exchange, which entitles them to certain ongoing rewards in the future.
I created TATIANCOIN in 2014 to solve two problems: fans & funding. Too many artists don't even have the chance to record their work because they might be working six other jobs and signing with a label is impossible. I sold tokens to raise funds for what eventually became my 2017 album "Keep the Faith".
I had noticed that when artists moved from failing platforms to up-and-coming ones, for example from MySpace to Facebook to YouTube, they lost some of their audience because the platforms, not the artists, own that artist-fan relationship. I saw TATIANACOIN as a way to enable a more direct relationship between me and fans. The artist becomes just another peer. We raised $10k initially, funded the album, and used bitcoin to pay all my musicians and studio folks. We quickly realized however that we had a car with no roads! The regulatory barriers, particularly in the US, have been high.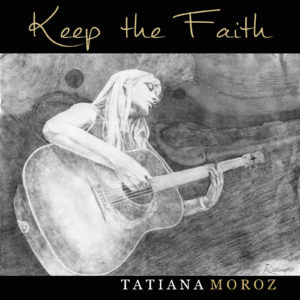 EML: How does TATIANACOIN work, and what has changed about your artistry and expression since you self-funded using this new technology?
The vision behind TATIANACOIN has evolved over time – initially we envisioned a simple digital gift certificate where you pre-purchase something, but you also form an ongoing connection directly to the artist without the involvement of a label. Later we experimented with the concept of an album token, which would give holders access to additional live versions of songs over time as they're released.
As of now, TATIANACOIN is not yet live, tradeable, and fully functional since we're waiting on the regulatory greenlight. One thing I learned from this process is just how long it still takes to make these technologies work, and how many unforeseen delays there can be! I want to make sure that when it's released it's immediately functional for people to use and experiment with.
However, operating independently since creating my cryptocurrency has really enabled me to be outspoken about what I believe in. I befriended Ross Ulbricht, the founder of the Silk Road who now has dual life sentences and wrote a song, "The Silk Road", as an ode to him. I've visited him in prison several times and ended up using a drawing he made of me from prison as the album cover. If you're a mainstream label artist you can't do something like that, and in today's world we need artists who are free to make such statements. That's one of the goals of our technology; we hope TATIANACOIN becomes a blueprint for artists who want to stay musically and politically independent. Imagine of Taylor Swift had her own coin, what would she need a label for?
EML: More than most artists, your work blurs the boundaries between musician, activist, and journalist. Can you talk about how you balance these different roles, and how your political involvement and music complement one another?
TM: I was really political involved in 2012 as a supporter of Ron Paul's presidential bid. I had learned about the Federal Reserve and had my eyes opened to how we were enslaved through the central banking system. I opened as a performer at Ron Paul rallies around the country. It was people from the right and the left, no one was nasty, and I felt lucky to be so accepted and act as a standard bearer and mini-Joan Baez representing these people.
The one unifying grain behind all my activities is trying to have the most positive impact on the world I can. I release music, run my own marketing firm, speak at bitcoin events, and interview interesting folks in the crypto space on my online Tatiana Show, and all of these things work toward that goal. I've started doing more public speaking, which is a unique way to bring a more creative side to crypto which is sometimes woefully lacking.
EML: You produce a video podcast called the Tatiana Show and frequently speak and perform at bitcoin conferences and gatherings. How have you found speaking and working in the crypto space as a musician, and not a programmer or technical worker?
TM: The Tatiana Show is fairly casual, and I love bringing on fascinating guests from fields as diverse as food activism, criminal justice, crypto, tech, and augmented / virtual reality.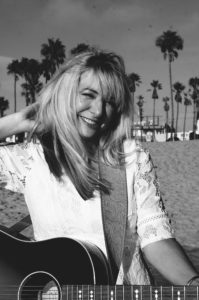 My approach for the show, and discussions about cryptocurrency in general, is to be open and friendly about what I do and don't understand. That lack of intimidation makes everyone else feels good, even if I am playing the dumb blonde card from to time! As I tell some of the more narrowly technical people in the space, no one's going to come to your nerd parade if you're not inviting others. I advise people in the blockchain industry to try to explain things not in the hardest way possible.
I've also appreciated having so many women in the crypto space. Crypto is a great equalizer, and women are empowered by tools that give them total control over their finances, like cryptocurrency. I love seeing women represented at cryptoconferences, which unfortunately doesn't happen often enough. Of course I don't want people to choose female speakers because they're female, but I do see guys who are blind to female speakers in the room. I hope to see us strike a balance with conference organizers becoming more cognizant of having diversity represented but not cordoning off a blockchain "women's table".
EML: Would you advise new artists to launch their own tokens? What advice would you give them that you wish had received at the beginning of your journey?
TM: We're not at a point yet where it's going to change your career. But artists do have an opportunity to be at the cutting edge of something really exciting. I'd advise new artists to learn about cryptocurrency and the motivations behind the community, which is really the heart of bitcoin. We didn't come together just to make a bunch of money and help banking become more efficient, it was because we had a really rock-and-roll idea that we own our bodies and that we want to be free. I'd love to see artists remembering that those core values are totally in line with the artistic spirit.
EML: As an early bitcoin supporter, what has it been like watching bitcoin surge in popularity (and price) in 2017, years after you began your involvement?
TM: It feels awesome! 2014 and 2015 were rough years for bitcoin, and there was a long stretch where people thought we were idiots. It's nice to see new people getting into space, but I also like seeing those people who put in the work from the beginning getting their due.
EML: What do you have in store for your performance at CryptoCreative? Where else can we catch you during Creative Tech Week in New York?
TM: One show only that week! At CryptoCreative I'll be playing a few songs from my newest album "Keep the Faith", as well as the Bitcoin Jingle. I also want to share the story of my friend Ross Ulbricht. Outside of Creative Tech Week, I'm reachable at my personal site and also through my marketing company, Crypto Media Hub.
Eli Mitchell-Larson is a social entrepreneur, impact investor, and aspiring goatherd. He spent much of the last two years in Nepal building SunFarmer, a solar company that provides thousands of customers with affordable, clean energy, and now serves on SunFarmer Nepal's board. After falling in love with elliptic-curve cryptography and the technologies underpinning cryptocurrencies, Eli is launching a project called CryptoAtlas to collect and share the most compelling stories of people who are already benefiting from the use of cryptocurrencies and blockchain technologies around the world. You can sign up to learn more about CryptoAtlas here.