Jeff Becker interviews Ellen Hackl Fagan about the Reverse Color Organ
Jeff Becker: Hi Ellen. Tell me about the history of the Reverse Color Organ.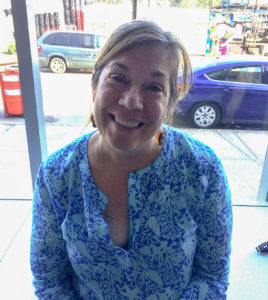 Ellen Hackl Fagan: The Reverse Color Organ (RCO) began in 2003. It is an interactive device that enables users to build a language that pairs colors with sounds. Unlike earlier color organs, the Reverse Color Organ presents this blended synaesthetic language from a painter's perspective; that colors' communicative properties include aural equivalents. The RCO has gone through four major phases working in collaboration with programmers, scientists and composers throughout this fifteen-year development.
JB: And where is it at now, and where is it ultimately going?
EHF: The RCO is an interactive website that can be downloaded onto your phone. Developer Joshie Fishbein has been designing this with me. For CTW 2018 we are offering connections through daily Instagram postings of colors, cycling through a ROYGBIV spectrum, one color per day. My hope is that visitors on Instagram will then go to the RCO site and pair the colors to sounds.
JB: What skills have you acquired or honed during those years?
EHF: The skills that have been developed over the years to continue this project have been in painting, performance, public speaking, managerial, and organizational as well as getting an MFA . These skills enabled me to continue to exhibit the piece as an interactive performance and researched-based art installation. Rather than financing this with money,
I have bartered with programmers, exchanging exhibition and credit opportunities as they advance in developing further skills and contacts in their respective careers.
JB: I know that music is an important part of your life. Who were your favorite collaborators?
EHF: Musicians are better collaborators for my projects than visual artists, providing clear critical feedback for my ideas, as well as collaborative opportunities. We seem to share similar passions about music and art.
JB: Who inspires you?
EHF: Artists that inspire me and influence my work in creative technology are
James Tur
rell, early color theorists like Isaac Newton and Josef Albers, Brian Eno, and Neil Young.
JB: You're originally from the midwest. Why NYC?
EHF: New York is the center of the art world. Creative Tech belongs in New York City because that's where all the artists are working.
JB: You never do just one thing, Ellen. Tell me about what you're up to for CTW.
For Creative Tech Week 2018, I'm using Instagram as the introduction to the process of selecting a color, and then pairing it to a sound. This is the culmination of 15 years of research and five evolutionary phases. Joshie Fishbein is my collaborator. As the director of ODETTA, I'm also curating an exhibition of eleven tech-based artists with a show titled "Fever Songs." This exhibition opened April 20 and will run thru May 20. For CTW 2018 we will host two events; a concert with John Morton and Scott Colley on May 12 at 4:00 pm, and an Artist's Talk on Sunday, May 13, at 3:00 pm to close CTW.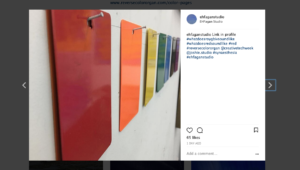 Jeff Becker is a freelance photographer who crafts interesting visuals both in and out of the camera, builds no-tech installations, and was an uber-geek before it was cool. During Creative Tech Week, his work can be seen at http://www.odettagallery.com.