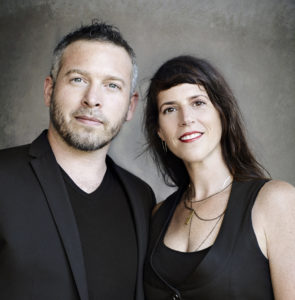 Collaborative team Chris Klapper and Patrick Gallagher will be showing two installations during Creative Tech Week – Flatland at ODETTA in Brooklyn and If A Robot Makes The Painting, Is It Still Art? at their Brooklyn studio.
Interview by Helen Allen
Helen Allen is a business development, communications and events management consultant for clients in the arts, design, and luxury lifestyle market. Prior to launching her communications consultancy, Helen founded and directed PULSE Art Fair and served as Executive Director of Ramsay Fairs. Previously she worked with the renowned art advisor Thea Westreich and with Christie's Auction House in both Rome and New York. Ms. Allen teaches two summer programs at Sotheby's Institute of Art and regularly lectures and participates in panel discussions about business development, entrepreneurship, marketing, and the art market at Christie's Education, Sotheby's Institute, NYU, the New York County Lawyers Association, The Federal Bar Association, and The Armory Show, among others. She dreams of being a curator and loves working with artists to create exhibitions.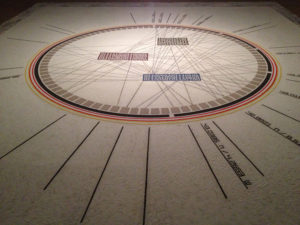 HA: Your main collaborative series, Dataatadata, concentrates on the aesthetic and conceptual theme of the beauty of raw information. What inspired you to consider this concept as an artistic project?
CK & PG: Hidden within seemingly esoteric data, strings of numbers, codes and formulas, we've discovered beautiful concepts that express deep philosophical and existential ideas were being tied together in what we've come to know and appreciate as the poetry of numbers.
It's an exciting form of abstraction that we feel has a lot of areas to explore. There was one book in particular that inspired us at just the right moment. Visual Complexity: Mapping Patterns of Information by Manuel Lima. It is a fascinating historical look at data mapping, and how the way we perceive our reality is guided by the way we receive it. It gave us a new view of the "data age" and we saw information and graphed data as true works of art, not only in the expression of the information, but in the power of the story that the data could tell.
If a picture could tell us a thousand words, imagine what a picture of compressed and analyzed data has to say.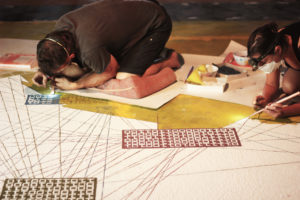 Our series, Dataatadata, a play on Dadaism, began with our installation 2751 kilometers/2621 grams, a visualization of the recorded data of a journey in the form of a mandala. 2751 kilometers/2621 grams is a reference to the distance traveled and the weight of the materials used. Expressed with GPS coordinates and binary code, it is a visual map comprised of days, regions, experiential categories and specific locations. The concept of this project combines the poetic expression of a mandala with data mapping. Since this installation in 2014, we have continued our main focus on learning more about data and mathematics and how to express these complex ideas in a visual and experiential way.
HA: It was recently Pi day, which was also the same day that renowned cosmologist Stephen Hawking died. Can you tell us a little bit about your global art installation PI Project and how it will develop over the course of its creation?
CK & PG: We are creating what will one day be recognized as the largest art installation in the world using data visualization and sculpture, centered around the infinite number sequence of Pi.
PI Project is a multifaceted, multi-decade long project combining sculpture, mathematical concept, data visualization, geolocation and web based media. This process begins by hand casting sculptures of each individual number along the infinite number sequence.
Connecting the world through art, PI Project connects a network of its global collectors though geolocation and data visualization. As the artwork ships around the world, each sculpture is identified on a web based interactive world map pinpointing three elements: the geolocations, the individual numbers and their specific position along the sequence of the most famous of transcendental numbers.
The most exciting thing about this project is that we don't know where it's going, and we are entirely open to it taking its own course. We started with a sculpture series and a data map and, in the short time since we began the project, it is already around the world, crossing 5 continents, 19 countries and 22 US states. As each year brings new technologies and new materials we hope to develop new collaborations. And as the project continues to grow, we are keeping our eyes open to new opportunities to push it onto unexpected tangents.   Eventually, we hope to see it develop into its own entity, branching beyond the two of us into new expressions as it continues to unfold.
The death of Stephen Hawking is a profound loss, and to leave this world on such a significant day, Einstein's birthday, it's as if he planned his departure. It is hard to imagine a better ambassador to the power of thought and will.
HA: You are currently working towards two solo shows at ODETTA, Brooklyn and the Invisible Dog Art Center, Brooklyn. Can you tell us a bit more about what work you plan to exhibit there?
CK & PG: How do you describe a world of infinite beauty with only 26 letters? The language of the universe is written in ratios; it is an infinite field of sets within sets, infinities within infinities. How fascinating that with this language, we learned that the world was round a thousand years before we ever set sail, that we plotted the paths of orbits and gravity hundreds of years before we left the surface of the earth. Numbers as symbols, arranged in the right order tell incredible stories about the interconnectedness of all things, our world, our environment, our reality.
Both shows are in tune with the idea that everything is interconnected – that our reality and our existence are far deeper that we could ever imagine.
Our show at ODETTA, Dataatadata: 3-Sphere, is a sculptural installation on infinite dimensional space, using an ultra minimal artistic expression.
This show is about the dimensions of the space we inhabit. 3-Sphere is a term related to higher dimensional forms that exist beyond our perceptions. There are current models and theories that prove the existence of 11 different dimensions. These theories, developed over the past few hundred years, employ measurements and consistencies to describe a reality we are only just beginning to sample as a species.
3-Sphere is a sphere in 4 dimensions. It is a form that we can only imagine in our minds. The closest we can come to physically seeing such entities is through projection planes and hypothetical representations. 4 dimensional objects appear to fold in on themselves yet in their proper context they are solid.   Using Resin, Acrylic, LED and Video Projection, we create form and space that seems fluid and solid at the same time.
Opening July 13th, 2018.
Our show at the Invisible Dog Art Center, Dataatadata: Everything and Nothing, is an immersive sound installation that centers around a 30 day performance and the creation of an intricate, large scale mandala. The work will go from process to completion to destruction all in the course of 30 days. The execution of this piece will be an arduous, elaborate and painstaking effort which will be performed for 10 to 14 hours per day, every day, for 30 days.
Unlike the sacred geometries used in ritual mandalas, the delicate and precise composition of Everything and Nothing will employ mathematical expressions and binary code. The beauty of this process expresses time and the ephemeral nature of certainty, while the composition is meant to express the idea of scale, infinity and experience.
The imagery of data as a compositional element is the thesis of this massive installation.
Each day new sections will be created as we sculpt the musical score. From this, an immersive sound installation will form and evolve as the mandala begins to take shape
Using a wide range of technologies including ceiling mounted cameras, short throw video projectors, interactive programing software and a multi-channel sound system, the mandala will be scanned and processed each day to relay the sound installation throughout the gallery. The progress and development of the mandala will be recorded and randomly performed throughout the month, highlighting variations of the composition.
The final performance will be hosted at the end of 30 days when the mandala has been completed. The musical composition will be scanned and played in its entirety, culminating with the destruction of the work.
Performance beginning December 1st, 2018 – with the sweep on New Years Eve.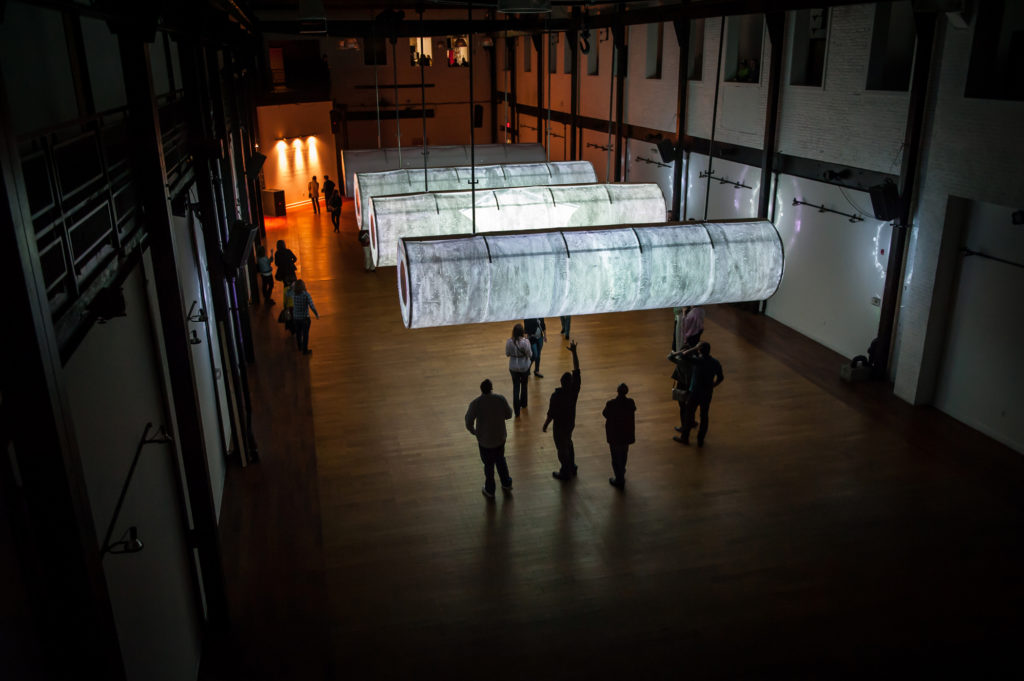 HA: Your hugely successful installation Symphony in D Minor, now in the Hydropolis Museum, Poland combines music and nature in a large-scale immersive way. Can you explain a bit more about Symphony in D Minor and what the challenges are of creating and installing projects like these?
CK & PG: Symphony in D Minor is self contained thunderstorm on an epic scale. A series of large hand cast resin sculptures, each individual form is a unique instrument hanging from the ceiling.
Suspended just within reach and activated by touch, the viewer sets the symphony in motion by pushing the forms through the air to trigger the various sound elements of the storm. Sensors relay individual recordings of thunder, lightning, wind and rain with alternating intensities to a full-scale sound system.
Acting as both conductor and musician, the viewer creates an evolving composition out of atmospheric sounds, forging an environment that envelops the audience.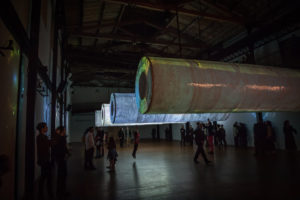 Creating an installation that employs sound, sculpture, video, projection mapping, interactivity and digital new media is an immense undertaking. We discovered the true art of collaboration with this project, you can't get to the finish line of project of this magnitude without help. Symphony in D Minor was bigger than the two of us.   This project was our first direct collaboration and it brought each of our strengths, personal expertise and vision together in a way that accelerates our projects in to more ambitious territories.
HA: How do you think the two projects you will be showcasing for Creative Tech Week, Flatland and If A Robot Makes The Painting, Is It Still Art? fit into your overall oeuvre and progression as artists?
CK & PG: Both of the projects we will be showing during CTW tie into our overall concept of exploring new technologies and to use them to express immense ideas on a human scale.
Flatland , shown at ODETTA
Inspired by the mathematical expressions of higher-dimensional theoretical shapes, Flatland is an interactive video and program that tracks sound. The composition consists of a delicate projection of reactive line drawings intertwined with strings of code and mathematical expressions pulled from the evolving compositions themselves. The program interprets the real-time sound in the space giving viewers a chance to be either passive observers, or active participants by creating sounds that will interact with the projected video.
If A Robot Makes The Painting, Is It Still Art? – Performance at our studio
Over the past few years we have been learning to program and work with CNC machining as an instrument of art. Through our experimentation and all the complexities we faced, we dubbed our robot, BeastBot 1. Among our first endeavors working with the machine was to make drawings using the tool paths of the program. The drawings created by the program to guide the machine are geometric, detailed and very precise but have beautiful imperfections due to material and medium. We felt the next natural step was to see how that translates to a more fluid form, so we are began programming the machine to use a paint brush and ink.
We will open our studio for this demonstration / art installation. BeastBot 1 will be creating a large watercolor painting. Going from dipping the paintbrush in the ink, to wiping off the excess, to the paper and back again, over and over until the painting is complete.
The concept of the painting is about exploring possibilities of technology. We'd like to demonstrate how to use new technologies in ways outside the normal parameters.