By Yael Kanarek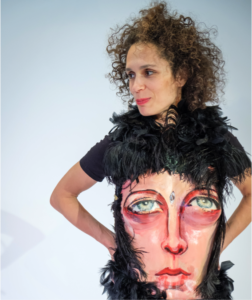 Yulia Lanina is a Russian-born American multimedia artist. Lanina's projects are not confined to one art form, but exist at the intersection of visual and performing arts, technological innovation, and social issues like gender perception, sexual objectification and violence, loss, and motherhood. She is particularly interested in turning the traditional medium of painting into a multi-dimensional and immersive experience for the viewer.
http://www.yuliyalanina.com/
Yael Kanarek: Tell us about your background. How did you get into art and technology?
Yuliya Lanina: Growing up in Moscow, I studied music and wanted to become a performer. When I came to the States right after high school, I did not speak much English nor did I have friends. I was going through a lot of bad stuff, and I used drawing as a way to express thoughts and feelings, to tell stories about my experiences. They were never literal, but they made sense to me. In time, drawing became painting, then came installations, films, animations, mechanized dolls and dioramas and more recently – multimedia installations and performances. Once I started working with animatronics and moving image, painting and static sculpture were no longer satisfactory. That was my entry point into technology. I very much enjoyed the complexity of narratives which time-based work allowed me to explore. Having musical background also pushed me to involve sound and movement in creating stories and experiences for the viewer.
YK: You work in several areas, however it has a consistent language that often begins in paintings of characters that are human-animal hybrids and wink at fashion. Can you talk about how you come to your characters and how you build your stories?
YL: One day I was waiting in my studio for a friend and started playing around with random objects. Next thing I knew I created a character with the body of a bird, the head of a butterfly and arms and legs of a human wearing red high-heeled shoes. I immediately fell in love with that creature. In a few weeks my studio was filled with characters made of various hybrids of human, bug, and bird parts. This project turned into an installation, animation and dance performance with anthropomorphic protagonists. At first I did not know any of this meant, but with time I came to realize that it was my way of reconstructing a whole new self, assembled from a bunch of mismatched pieces and sources. That first character ended up in an animation singing a children's song about what it means to be a bird. In some way, to this day I very much relate to that first animation. Life is constantly changing, my understanding of who I am and what I am meant to be is constantly shifting. All of my protagonists are on some kind of a journey, some of it external, some internal, but there is always movement that leads to self-discovery.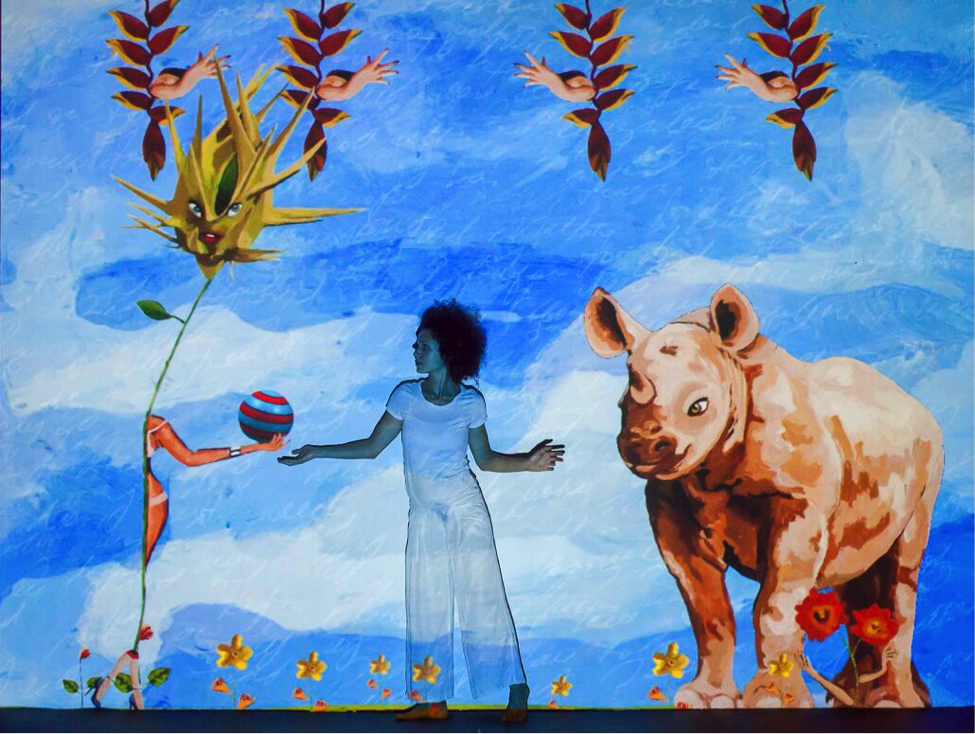 YK: How does your process benefit from collaboration?
YL: Collaboration is at the core of most of my work. Even though I do a lot of work alone in the studio, the final version is very much a collaborative effort. I collaborate most with composer Yevgeniy Sharlat, who is my husband. In fact, collaboration brought us together the first time at Yaddo residency. We worked on a number of pieces including animations, mechanized sculptures and public art work. I also love to work with composers Russell Pinkston, Vladimir Rannev and Jeremy Kasha. Wonderful and very different, each of them brings their own aesthetic and sensibility to the pieces. Engineer Theodore Johnson has been my technical advisor for many years, helping me with programming and other technical issues. Among my other favorite collaborators are choreographers Caron Eule and Andrea Ariel, and poets Cecily Parks and Lisa Olstein. I believe that working collectively makes my pieces stronger, more meaningful.
YK: For CTW you are performing "Within, Above and Beyond," your latest multimedia art performance piece. Can you tell us about the piece? How did it come about?
YL: It all began with Not a Sad Tale, my first attempt at performing alongside my own animation, which I presented during last year's CTW. The experience was extremely rewarding, prompting me to create another one, which I called Within, Above and Beyond, borrowing from James Joyce. It uses projection and performance as well, but the choreography and my interaction with the characters are more complex and adventurous. There is also a motion tracking element in the music which allows me to manipulate sound in real time. University of Texas professor Russell Pinkston composed the music using a variety of bird-calls, and it perfectly articulates and underscores the visuals. Andrea Ariel choreographed the piece. I am not a dancer but she was able to work with my limitations and integrate my movement in a way that looked seamless and effortless.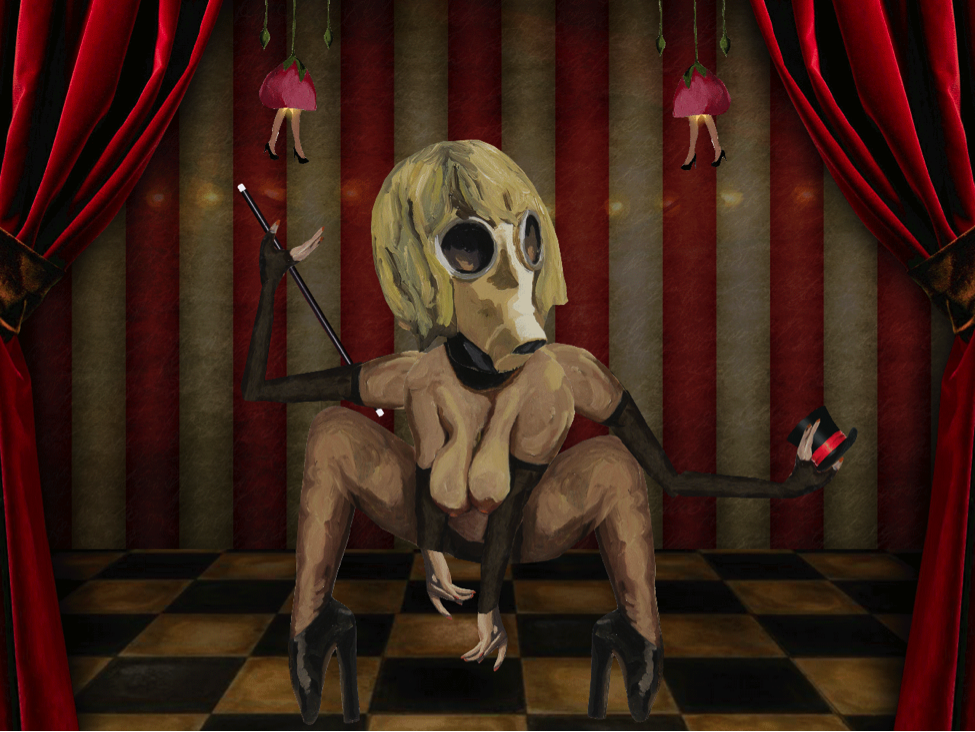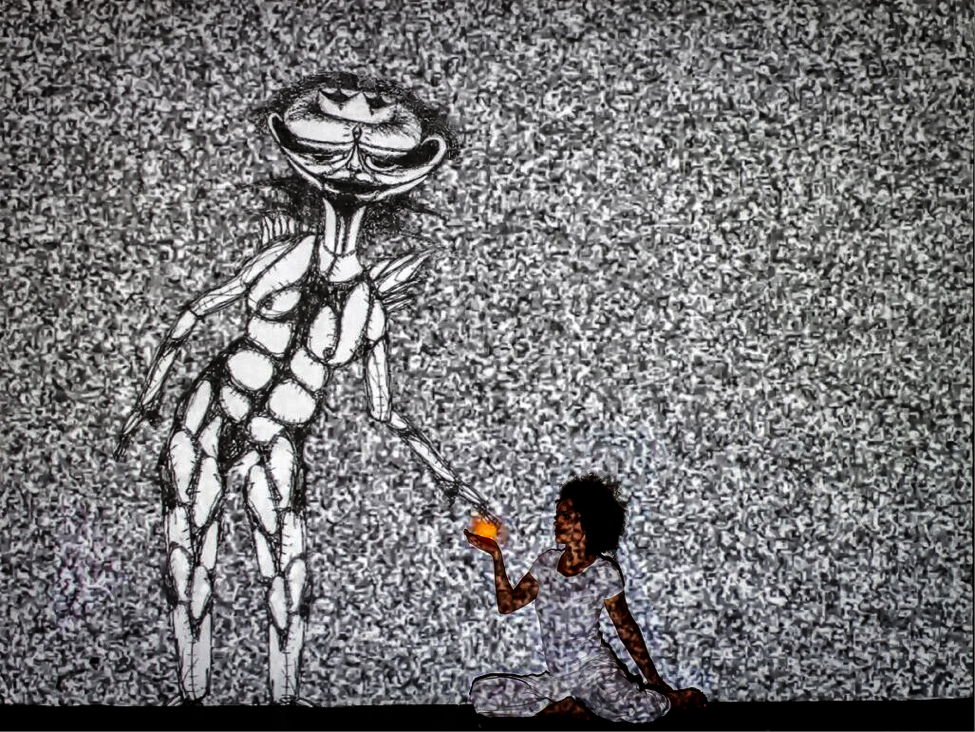 In Within, Above and Beyond I explore what it is like to be inside the creative subconscious,  what it would feel like to enter the space of a drawing. There is a lot of playfulness in the work as well as exploration of memory, violence, addiction, and self-acceptance.
The piece begins with me writing in the journal and being overtaken by the white noise of my own mind out of which the story emerges. I used drawings from the journals I've kept as teenager as well as my most recent paintings, emphasizing the continuity in the image creation through time. At the end of the piece I am facing my own alter ego which leads me to the realization that the white noise is all internal chatter, the words of which I am yet to understand.
YK: Your recent work also involves animatronics. Can you tell us about your latest piece you just showcased during SXSW 2018?
YL: It's called Herstory and it came out of my residency at The Foundry at The University of Texas at Austin in the Fall of 2017. Previously I'd created animatronic dolls and interactive mini performances. In the past, I had also done work using my own body casts. This time, I combined both of these interests to create a sort of a mechanized version of myself. When 3D-printing my face I duplicated one side of my face to make it look more doll-like.  When activated, the sculpture's head and arms start moving as if trying to reach out, her heart starts pulsating, and she attempts – and fails – to speak. Her companion, a fiddler bunny in a golden dress plays a somewhat distressed violin piece, created by Yevgeniy Sharlat. (As a child, the only toys I played with were toy rabbits.) The piece embodies humor, compassion, and silent sorrow of those who are hurting, yet are unable to speak up.  It echoes my personal experience surviving sexual violence as an underaged, illegal immigrant in the US, unable to ask for help.
Herstory has a companion animatronic child-doll which makes comments about the human-robot relationship. It was fun to watch many people having lengthy conversations with the piece.
The exhibition was sponsored by SXSW and the City of Austin Cultural Arts Division and was a part of the UNESCO Media Arts Exhibition at SXSW.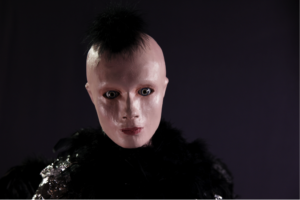 YK: Where can we see your performance during Creative Tech Week?
YL: The performance will take place on May 7th at FiveMyles Gallery, 558 St Johns Pl, Brooklyn, NY. 7pm. The event is FREE and open to public of all ages.
Yael Kanarek is an artist who works in various media exploring cultural dynamics of narrative and languages. She's known for pioneering use of the Internet and of multilingualism in works of art. Kanarek resides in New York City.