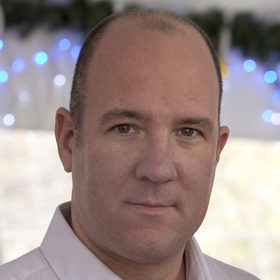 Scott Draves
Brooklyn, NY
Scott Draves is a pioneering software artist best known for creating the Electric Sheep, a collective intelligence consisting of 450,000 computers and people that uses mathematics and genetic algorithms to create an infinite abstract animation.
His work has been shown at LACMA, MoMA.org, Prix Ars Electronica, ZKM, Art Futura, Emoção Art.ficial Bienial and is in collections world-wide including Carnegie Mellon School of Computer Science, the 21c Museum Hotel, MQS Capital, Google, the Simons Center for Geometry and Physics, and MEIAC. His clients range from Skrillex to the Adler Planetarium. Electric Sheep apps are available for iPad and Android.
He is currently employed by CTRL-labs developing brain-machine interfaces for virtual reality. He's the tech lead of the BeakerXextension to the Jupyter Notebook.