Interview by Ellen Pearlman
Ellen Pearlman is a PhD Candidate at the School of Creative Media at Hong Kong City University and recipient of the Outstanding Academic Performance Award for Research Degree Students. She is Director and Curator of the Volumetric Society of New York, and President of Art-A-Hack(TM).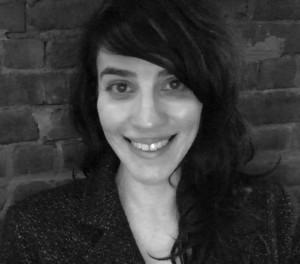 Allison Berkoy is a Brooklyn based artist working with video, sculptural installation, interactive technologies, and performance. Berkoy's work has been described as "fun and creepy", haunting… almost freaky", and "strange" by various publications. Her spectacles have appeared inside galleries, music venues, theaters, eateries, garages, a train caboose, and a salvaged lightship. Berkoy has an MFA in Electronic Arts from Rensselaer Polytechnic Institute, an MA in Performance Studies from NYU, and a BS in Theatre from Northwestern University. She has taught at Pratt Institute, RPI, and CUNY, and she is currently a Visiting Artist at the University of Tennessee Knoxville.
EP: How did you get started doing what you're doing?
AB: My roots are in theatre and performance. I was experimenting with video and consumer technologies on theatre stages and then I fell down a rabbit hole. I moved from theatre stages to music stages, and I collaborated with musicians for a bunch of years, creating live audiovisual shows. Then I started making installations, at first in less traditional spaces (the first one exhibited in the lobby of an office building). Most of the video/tech I taught myself, with help from the internet and kind friends.
EP: What are you working on presently?
AB: I'm currently prepping an exhibition happening next month at the University of Tennessee Downtown Gallery. They'll be showing a collection of electronic sculptures and a new interactive installation.

EP: Which projects in your creative tech career have you been most excited about?
AB: This would be a tie. The first one is "Into the Belly of the Lightship," a series of theatrical installation environments aboard a salvaged ship, docked near Chelsea Piers (The Frying Pan at Pier 66). The Second one is "Untitled Apocalypse" at the Experimental Media and Performing Arts Center (EMPAC), up in Troy, NY. That was also a navigable installation environment, with a series of theatrical installation tableaus. It then switched over to a sit-down cinema and a "show within a show" performed by projection-mapped figurative sculptures. One of the sculptures flew and crashed into a ball pit, via theatrical rigging.
EP: What skills and tools do you use most often in your work?
AB: With just about every work, I'm adding in something new, so it really changes up a quite a bit. For the reactive and interactive works, I'm typically coding in Processing, working with sensors (often the Kinect), and with Arduino microcontrollers. Most of the projects incorporate video, and I play around a lot with projectors and different kinds of displays. On the physical side, I'm usually trying to figure out how to put things together not meant to go together. Right now I'm building with wood, stuffed animals, and plastic.
EP: Who are some people in creative tech you are keeping an eye on, inspired by or blown away by?
AB: I am endlessly inspired by Bio Artist Kathy High. My favorite project of hers is Blood Wars, a performance-installation that sets up competitions between participants using their white blood cells. And Luke DuBois, his approaches to working with data. I'm especially thinking about a recent project of his, Take a Bullet for This City, with a gun that fires blanks any time a shooting gets reported. Others who are making things, and writing about things, who I am thinking about (some of whom I know, many of whom I don't know know but would like to!): Mat Collishaw, Michael Naimark, Heather Dewey-Haborg, Josh Klein, Lynn Hershman Leeson, Amy Youngs, Ken Rinaldo, Kyle McDonald, Oliver Grau, Jeremy Bailenson, Jer Thorp.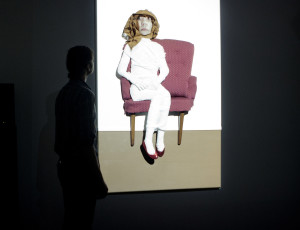 EP: What makes New York a great place for creative technology?
AB: This is often repeated, because it is true—it's the communities of people here.
EP: What are you doing for Creative Tech Week?
AB: The plan is to show the newest version of a participatory installation environment I have been working on for a number of years, called "Company." Participants enter an environment set up as a living room, and they meet their host—a projection-mapped figure protruding from a canvas on the wall. The figure appears to test its visitors, divulging strange stories and making requests, while reacting to the participants' decisions to obey or refuse the requests.