By Spencer Kuhn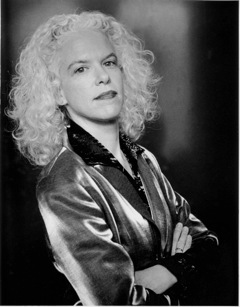 Biography:
Pioneering composer/electro-acoustic violist Martha Mooke is a leading Yamaha and Eventide Artist/clinician in demand as performer, composer and educator.
She is Artistic Director/violist of the avant garde Scorchio Quartet, featured on David Bowie's Heathen CD, and has played with Barbra Streisand, Peter Gabriel, Philip Glass, Laurie Anderson, Elton John, Trey Anastasio, Lou Reed and Patti Smith.
Mooke's honors include awards from Meet the Composer, American String Teachers Association, Arts International and the prestigious ASCAP Concert Music Award for creating the new music/boundary defying showcase THRU THE WALLS. Her new CD, No Ordinary Window, is produced by Grammy winner Cynthia Daniels.
---
Spencer Kuhn: How did you get started doing what you're doing?
Martha Mooke: One of my earliest and most significant influences was Jean-Luc Ponty. I was a mild mannered viola player until the day I put on his record "A Taste for Passion". Until I heard that album, I never knew that string players could play music like that. A short time later, I was the proud owner of my first electric 5-string violin (not many electric violas on the market in those days). I delved into the world of electric violinists/violists and discovered some wonderful players, mostly emanating out of the jazz medium. Discovering Laurie Anderson, the Kronos Quartet and Turtle Island String Quartet was the next phase of my "eclectic" music career.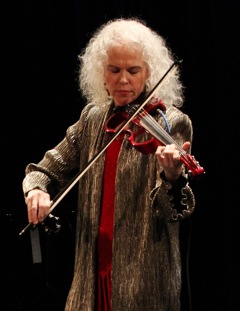 SK: Which projects in your creative tech career have you been most excited about?
MM: Of course, each new work I create! That said, a new project that has developed out of my recent CD, No Ordinary Window, is something I'm very excited about. "No Ordinary Window" started as the title of a new work for solo electric viola and has evolved into a passion about sharing music that reaches inside and opens windows to the soul. It's about moving the listener in profoundly personal ways, transporting the listener through kaleidsoscopic portals that illuminate the path to new, unexplored dimensions.
SK: What skills and tools do you use most often in your work?
MM: I use a combination of inspiration and exploration when I'm in creating mode. Both can come from inside (my soul, heart or head or combo), playing my instrument (electric or acoustic viola) and/or my arsenal of electronic gear (typically effects pedals to loopers).
SK: Who are some people in creative tech you are keeping an eye on, inspired by or blown away by?
MM: I always pay homage to the two people who first inspired me – more than 20 years ago. Both Jean-Luc Ponty and Laurie Anderson opened my mind and ears to approaching a bow stringed instrument in non-traditional ways. They had a profound effect on my career path from my High School years to present time. I must admit that I'm both inspired AND blown away by Scott Draves, with whom I have the great pleasure and privilege of collaborating on Dreaming in Sound. His work is both stunning and organic and takes the art form to a whole new level!
SK: What makes New York a great place for creative technology?
MM: Well, being a native New Yorker, AND a musician, New York is the center of the universe for all things I love… which takes us back to my answer of inspiration and exploration. It's such a stimulating environment with so many resources and opportunities.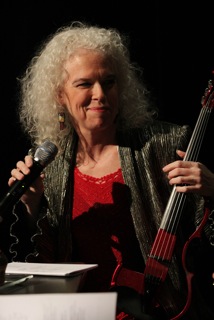 SK: What are you doing for Creative Tech Week?
MM: I will be performing the U.S. premiere of my work, Dreaming in Sound, an immersive large scale work scored for electric viola and electronic processing in multi-channel audio distribution with interactive video (created by pioneering software artist Scott Draves). Dreaming in Sound, (the World Premiere takes place the previous week in Prague) is inspired by the sleep stage REM and the concept of lucid dreaming. Data collected from the audience prior to the performance is incorporated into a collaborative "DreamScore" that will be realized during the performance.
Dreaming in Sound is commissioned by the Agosto Foundation, Prague, Czech Republic. The world premiere will take place on April 29 during the vs. Interpretation Festival at IIM in Prague. Programming of the DreamScore component and MaxMSP multi-channel audio distribution was realized during an Artist Residency at Harvestworks (supported by the Agosto Foundation) with great thanks to my intrepid programmer Tommy Martinez.
SK: How is your work for Creative Tech Week different or similar from work you have done in the past?
MM: Dreaming in Sound marks a milestone in my creative output. It's a multi-tiered work incorporating notated and improvised music for electric viola with effects processing and looping, multi-channel audio distribution, interactive video and a communal "DreamScore" derived from audience data collected prior to the performance. It's by far the largest and most ambitious work I've conceived.
SK: What do you wish to accomplish with your artistic creations?
MM: For me, music is not only a form of expression, it's a vehicle of communication between the present parties (performer/listener). I believe in evolution of art/music and pushing and breaking through existing boundaries – literal or virtual. It's also my intention to break through the artist vs audience barrier so that the performance experience takes on a new level, or dimension
---
Interviewer
Spencer Kuhn is a High School student from the Institute for Collaborative Education currently interning at Harvestworks. He is the Webmaster and Social Media manager for the organization.