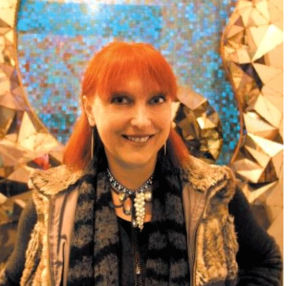 Kim from SpareMin caught up with Magda Sawon, owner of the Postmasters Gallery  to discuss what's going on at the gallery, as well as her involvement in Creative Tech Week. Be sure to check out the gallery and follow her on twitter
Currently the gallery is featuring Zach Gage's Glaciers and Jen Catron and Paul Outlaw's Behold! I teach you the Overman!
A little more about Magda, taken from her Wikipedia Page:
"Magda Sawon is a contemporary art gallerist and art world figure who founded and owns New York's Postmasters Gallery (with her husband Tamas Banovich), a gallery for young and established contemporary artists, especially those working in new media, in the Tribeca neighborhood of New York City. The gallery is considered to be one of the "leading experimental galleries" in New York City."
Be sure to have a listen below!
Interested in doing your own interview or discussion? Check out this blogpost about how to use SpareMin to get your voice heard during Creative Tech Week and beyond.