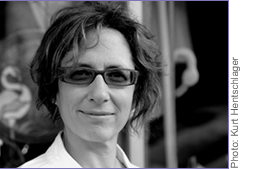 Kim from SpareMin caught up with Claudia Hart about her work, her process, and her current show, "The Dolls House", happening at The Transfer Gallery, 1030 Metropolitan Avenue, Brooklyn NY (directions here), through June 4th. As a side note the conversation happened while Claudia was walking around the broad streets of Chicago (complete with mid-conversation siren!).
Taken from her Creative Tech Week Bio: "Claudia Hart has been active as an artist, curator and critic since 1988. She creates virtual representations that take the form of 3d imagery integrated into photography, multi-channel animation installations, performances and sculptures using advanced production techniques such as Rapid Prototyping, CNC routing and augmented-reality custom apps. Her works deal with issues of representation, the role of the computer in shifting contemporary values about identity and the real, and specifically questions ideas about what might be considered "natural." Her project is to feminize the masculinist culture of technology by interjecting emotional subjectivity into what is typically the overly-determined Cartesian world of digital design. "
Interested in doing your own interview or discussion? Check out this blogpost about how to use SpareMin to get your voice heard during Creative Tech Week and beyond.