By Ellen Hackl Fagan
In regular form, Isabel is understating her achievements and assets. Without her, CTW would not EXIST!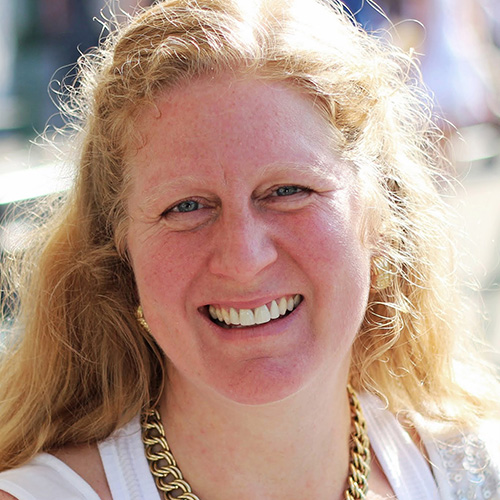 Biography:
Isabel Walcott Draves runs two organizations to promote and develop the software and electronic art movement: Creative Tech Week and Leaders in Software and Art. As a strategic advisor in the innovation and Internet space, I act in a COO capacity for client start-ups.
Since 2015: Founder, NYC Creative Technology Week
Since 2009: Founder, Leaders in Software and Art, a monthly salon series for those committed to contemporary art with a creative software or computer component.
Since 2001: Providing marketing and operations strategy for tech-based communities
1996-2001: Founder and CEO, SmartGirl.com – pop culture research and media website crowdsourced by teenage girls
1994-1996: Business manager for early Internet company + masters degree from Columbia
1991-1994: Director of Finance and Strategy, Teach For America
Personal Goals: Help make NYC better known as the center of Creative Technology in the USA. Increase the number of women in leadership in tech and business.
Specialties: community organizing and networking, software and electronic art, corporate innovation, women in technology, angel investing and start ups, project management, new media and digital art, strategic alliances/partnerships, crowdsourcing, the sharing economy.
---
(Ellen Hackl Fagan) How did you get started doing what you're doing?
(Isabel Walcott Draves) I've been an entrepreneur my whole life, and I started the first social media website for teenage girls in 1995, before that was a name that people used to refer to what, at the time, we used to call "user-generated content". I met Scott Draves in 2008, and became inspired by his generative, algorithmic art. I became his business manager. And I just got more and more involved in creative technology from then on – we married in 2009 and I started Leaders in Software and Art (LISA) that fall. We're going on 7 years now since I began monthly gatherings of creative technologists focused on art. But it eventually became clear that these fantastic artists also worked in business, in advertising, in start-ups, in academia – that creative technlogy spans industries, and that everyone needed to come together to see each others' stuff, and meet each other, and hire each other and work together…
(E.H.F.) What are you working on presently?
(I.W.D.) I'm so glad you asked! Yes, the culmination of these musings, assisted by my large network of people in the field, led us to Creative Tech Week. You can learn more about it on our website, but basically, we have 400 partners and experts, 350 different events, all over NYC April 29-May 8 2016. Our inaugural year!
(E.H.F.) Which projects in your creative tech career have you been most excited about?
(I.W.D.) Like a good mom, I don't pick favorites. But in fact every time I see someone speak about their work at LISA or at one of my events I'm freshly blown away by the cool projects and artwork people are coming up with, and their experimental and professional vision. Are there a couple of duds once in awhile? Well, I might say so, but our projects are all vetted, which means one person's dud is another person's true love. I like to keep presentations short so if there's something that's not to the taste of someone in the audience, the next thing comes along pretty quickly and they're bound to love that one. I'm honestly excited about everything. But, I'm a happy person generally.
(E.H.F.) What skills and tools do you use most often in your work?
(I.W.D.) Two things stand out – my networking ability, meeting and connecting people; and my work ethic. I work really hard, and I have tremendous focus, and I can do pretty much anything from operations to marketing etc.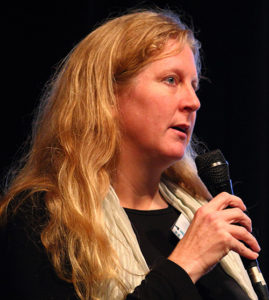 (E.H.F.) Who are some people in creative tech you are keeping an eye on, inspired by or blown away by?
(I.W.D.) I just love Kenji William's Bella Gaia and Origin Stories. We're lucky to have it in our program. It's a moving performance with gorgeous visuals of the earth from space from NASA, with data visualizations, beautifully choreographed dancers, and he plays the electric violin so exquisitely. He's also showing VR in a talk at the CTW Industry Hub presented by Future Colossal, and has a booth at the Expo on 4/29-4/30.
I'm very honored that to be part of our first festival, a group of really seminal and essential, early digitally-oriented female artists are mounting a show that's up just for Creative Tech Week, with an opening reception on Thursday, April 28th. It's organized by Suzanne Ball of Van Brunt Projects and features Lia Cook, Darcy Gerbarg, Margie Hughto, Linda Law, Vibecke Sorensen and the very eminent Barbara Nessim.
And I saved the best for last – my husband is debuting a new project, Electric Dots, during Creative Tech Week, and you can catch it with Martha Mooke at National Sawdust on Thursday May 5th, or the free open-air demo at Grace Plaza on Friday, May 6th with LoopLabs.
(E.H.F.) What makes New York a great place for creative technology?
(I.W.D.) The people. There are so many incredibly talented artists and technologists here. I'm humbled to be bringing such an awesome group together and hope they thrive from meeting each other and showing off their masterpieces at CTW.
(E.H.F.) What are you doing for Creative Tech Week?
(I.W.D.) Uh – pretty much everything! But not all by myself. Thank god. I couldn't do this without the help of my team, our experts, our partners and our sponsors. Thank you everyone!
---
Interviewer
Ellen Hackl Fagan, Expert and Partner, The Reverse Color Organ and Owner, Director ODETTA, which opens CTW with If This, Then What? 8 artists exploring cause and effect relationships in their visual art works utilizing creative technology. For Creative Tech Week, ODETTA will open the festival with three events, opening on Friday April 29 with a reception at the gallery from 6-8 pm.
Saturday night is experimental music at ODETTA starting at 8 pm, Drone. Sunday afternoon, May 1 is the Artists Talk at 3 pm. We hope you'll get to know ODETTA and our CTW artist/experts.
Biography
Ellen Hackl Fagan is the inventor of The Reverse Color Organ and The ColorSoundGrammar Game, two projects that enable viewers to synaesthetically explore the sound of colors. She also is the creator/owner of ODETTA gallery, in Brooklyn, New York.
For Creative Tech Week Fagan is wearing both hats, that as artist, and as curator. The Reverse Color Organ will be simultaneously launched as a web app for both CTW and for the fledgling FLUX Fair 2016, an outdoor public sculpture event in Marcus Garvey Park in Harlem. Managing artists comes second nature to Fagan. She single handedly raised three sons to adulthood and comes from two huge families, where, as a middle child, she learned how to get heard above the crowd, through humor.
The Reverse Color Organ is being realized in collaboration with programmer/artist Joshie Fishbein and cognitive scientist Michael Cole. In its sixth version, the RCO is now evolving into the hand held toy that Fagan has always envisioned for this project.
Fagan exhibits her work extensively throughout New England and New York City and ODETTA is fast becoming a household name in the gallery world.