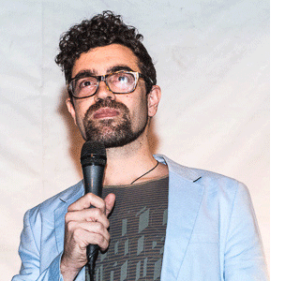 "Mark Bolotin is an award-winning multi-media artist, inventor,  creature creator and the founder and artistic director of Synarcade Audio-Visuals. He has created large-scale multimedia work for institutions across the world including the Sydney Opera House, the Museum of Modern Art in Zagreb, Melbourne Arts House,  Museum of Contemporary Art (Sydney) and the New York Hall of Science. He works at the forefront of immersive art and interactive technology. Mark Bolotin has also run multimedia workshops for diverse communities across the world including in Australia, China, Mali, Uganda and Kenya." –From HyphenHub
We talked with Mark Bolotin for five minutes on SpareMin. You can listen to the recording by visiting the app, or listen below. Mark is involved in Creative Tech Week and is co-director of HyphenHub a New York Based non-profit that explores and promotes the connection between Art, Technology and Business.
Interested in doing your own interview or discussion? Check out this blogpost about how to use SpareMin to get your voice heard during Creative Tech Week and beyond.