By Isabel Walcott Draves
Founder, Creative Tech Week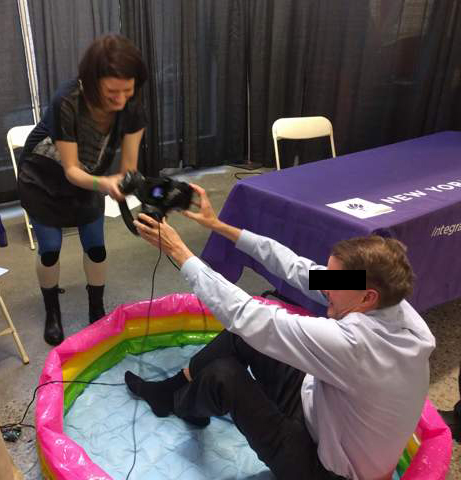 Our kickoff party Thursday night 4/28/2016 at the National Arts Club packed the house! It was great to see the excitement building for Creative Tech Week, see some old friends, meet some new ones, witness what some of the Harvestworks fellows are developing (Toni Dove's robotic dress, Heidi Boisvert and Marco Donnarumma's Xth sense controller), and watch Marco's mesmerizing performance.
Many thanks to our National Arts Club hosts Steve Masur, Danielle Cyr, Gary Shapiro and Persia Tatar, Carol Parkinson from Harvestworks, Maggie McCloskey from CDAS, and guest speaker Kate Daly, VP of the Center for Economic Transformation at NYCEDC.
Yesterday I visited our Expo at 254 36th St, Brooklyn 11232 and enjoyed the opening reception there. It's open again Saturday 4/30/2016 from 10-6 and then we pack it up to get ready for next week's three weeklong conferences oriented around business, arts and education (one each).
When you see a grown man from one of the nation's largest banks wearing a VR headset and playing in a kiddie pool in a suit, you know something brand new is going on in the art world.
When that happens in the same place where a young woman from Silicon Valley is selling DIY electronics kits for girls to make light-up t-shirts and headbands; where the technology director of a major biology lab at Yale turned cell slides into abstract art; where you can play an interactive game that puts you in the shoes of an Iranian journalist tortured by his country's new regime in the 70's, or get a selfie of your eyeball…
You start to wonder if you have taken some strange drug or moved to a new dimension. This was unlike any art show I have ever seen.