The Creative Tech Week 2016 is over, but the conversation goes on. Over 400 events around New York City and thousands of people attended, the Creative Tech Week has put the foundation into building a special place for all creative minds regardless of their place on the creative journey ladder.
Here is the post-conference interview with Marco Donnarumma, the artist who did the mind-blowing performance called Ominous during the Creative Tech Week Opening Night at the National Arts Club. The performance involved attaching censors to Marco's wrists and connecting them to amplifiers through Bluetooth thereby enhancing the natural sounds of the body turning them into music.
Ksenia Newton: What inspired you to turn to the art and tech industry?
Marco Donnarumma: I've been always using technology in my works. I got my first computer desktop back when I was a kid in 1999 and never played games on it, but started immediately making sound, music and video. It is a natural way of creating for me. Of course, the way I use technology has continuously changed. What has been emerging through the past decade is my particular aesthetic dissecting and rebuilding the relations of the body and technology in a critical confrontational way.
KN: What do you wish someone would have told you before joining the tech industry?
MD: Envisioning new technology that does not follow the current trends is hard and always welcomed by the community and the industry. However, when it comes to practical creation of such new technology, things get much harder and become much less welcomed. People do not like change. This is something I play with a lot in my work; I work through people's expectations, sometimes meeting their expectations, most times – not.
KN: What would you recommend to those who, just like you, have a passion for technology but have yet to make the step forward toward their dreams?
MD: Get your hands on building something new, often. Don't be afraid of experimenting and learning new skills, but also be very critical of every means you use and the context in which you use it.
KN: What are the upcoming industry trends are you excited about?
MD: The amount of useless technology today is impressive. The capitalistic strategies driving 'innovation' are tiresome, repetitive and exploitative. There aren't interesting technologies that excite me right now, but I do look forward to the developments of autonomous robots and computational systems, an area of research which is as fascinating as dangerous, in ethical, social and political terms.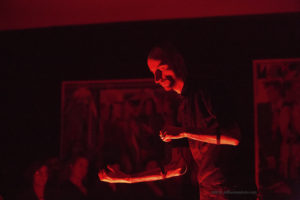 KN: What was your experience like at the Creative Tech Week?
MD: Wish I had time to attend more talks! I was too busy working with Dj Spooky and on my own premiere. I truly enjoyed the sharing environment and the enthusiastic conversations I personally had with many new people there. The community in NYC is relatively small and seeing all these people gathering in the same place was great. We do need more of this kind of events.
---
Interviewer
Ksenia Newton is a digital marketing and social media specialist who works on various aspects of the industry including strategy, content marketing, marketing analysis and web optimization. She can be reached at @ksenia_newton.