By Gary Shapiro
Kenji Williams is a creative director and composer whose work has enchanted audiences with its creativity and sheer power of multi-media live theater. His skillful use of augmented reality, virtual reality, interactive data and live music has left viewers dazzled from New York to New Zealand.
http://www.bellagaia.com/kenji.html
Gary Shapiro:  Your current work BELLA GAIA ("Beautiful Earth") has music as well as projections of our planet as seen from space.  Could you describe this work to someone not familiar with it?
Kenji Williams:  Bella Gaia is a NASA-powered immersive experience that communicates, without words, the beauty of the planet both natural and cultural (BELLA), and the interconnectedness of all things on Earth (GAIA).  A visceral flow of unencumbered beauty manifests for all the senses by combining supercomputer data-visualizations from NASA, high-fidelity orbital views of Earth, cultural photography, and stirring live performances of music and dance from around the world.
GS: What do you like the audience to come away with?
KW: I would like audiences to come away with a reason to care.  Without a sense of care, any issue doesn't gain traction. Care also implies an emotional intelligence. There is increasing neuroscience evidence showing how humans learn best through memorable experiences that engage the right brain first (the creative and emotional), which then opens the door to left brain cognitive learning. Bella Gaia has refined this formula that has solid metrics proven by NASA-funded surveys showing a 90% conversion rate in audiences reporting a greater understanding of our earth, and a more than doubling in the response of people who feel a more personal relationship with the Earth in their personal lives.
GS:  What have you been working on while at University of Colorado at Boulder?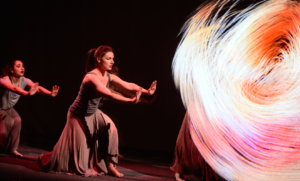 KW: It's a new type of live theater that is a research and development project being explored during my artist residency currently at the University of Colorado at Boulder. It is called "Origin Stories", and involves a form of Augmented Reality live projection system with live dancers interacting with three-dimensional animated characters. As the creative director of Origin Stories, it was an honor to work closely with choreographer Irina Akulenko, and 3D artists and animators Tobias Gremmler, Khairul Rahimi, Yukari Akaba-Rockmuller, and Clyde Cabanban, and light calligrapher JZ Aamir. We worked with a team of dancers in New York and Boulder: Prof. Donna Mejia, Hadley Kamminga-Peck, Emma Lee Scholz, Angelina D'Albero, Leah Woods, Sarah Varra, Stephanie Cheng, Melissa Chen and Shoko Batson.
http://mediacenter.dailycamera.com/2017/04/13/photos-origins-story-dance-and-visual-performance-at-the-cwa/#1
GS:  Can you explain what "Fulldome" is and what it's like to experience?
KW: Fulldome refers to the new planetariums that have been converted with digital projection technology that maps the 'full dome' of the planetarium. It has become standard now in most of the large planetariums in the world. A more relevant description could be 'virtual reality theater.' because it covers your entire field of view. My work Bella Gaia also has a Fulldome film, playing at planetariums around the world: http://www.bellagaia.com/fulldome.html
GS:  You've said that humans and nature are connected.  Would you say more on this?
KW: My work Bella Gaia tells a cosmic story, exploring both human and natural expressions of the Living Universe, illuminating the relationship between civilization and nature as we enter the Anthropogenic Age by visualizing our effects on the biosphere, while celebrating the evolution of art and culture.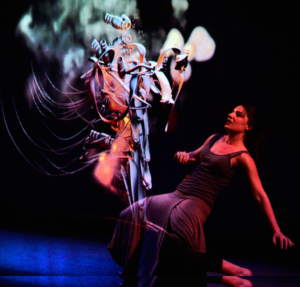 Indigenous cultures in past times have celebrated and integrated the dialogue between humans and nature into their lives and activities. Today's modern world has reduced that to camping trips and Earth Day, or to the policy world like the EPA and 350.org. But as a global urban culture, we no longer have regular rituals that reconnects us on a more personal level to the larger context of the natural world, and what our role is in it. This is why we are seeing massive systems failures with our biosphere on spaceship earth. Bella Gaia is about developing relationships and care in ways beyond left-brain data and policy.
GS: Your work has been seen globally. What work have you shown at the Carter Observatory in Wellington, New Zealand?
KW: Our Fulldome film is playing there! I would love to go to New Zealand sometime!
GS: You've presented or performed at a number of well-known institutions including the Smithsonian and Guggenheim Museum.  Could you describe what you did there?
KW: The Smithsonian was kind enough to invite me for their Folk Life festival on the Mall. The Air and Space Museum also invited me twice to perform there in their museum and their IMAX theater. I performed a solo version of Bella Gaia at the Guggenheim as part of Leaders in Software and Art.
GS:  You've also worked with the United Nations Educational, Scientific and Cultural Organization (UNESCO). What was that project?
KW: UNESCO was an amazing event in Paris, where youth from around the world gathered at UNESCO headquarters, and five of them performed with Bella Gaia. They wrote poetry about future visions of the earth, and recited their words on stage with Bella Gaia live.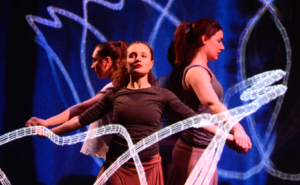 GS: You presented your work in Brooklyn Bridge Park. What was that like?
KW: It was really a dream come true. With a backdrop of Manhattan, and the East River, this outdoor show was particularly special not only because of the setting, but that it was also on Earth Day. https://www.facebook.com/bellagaia/posts/10154191799446841